Obtaining an asset-based mortgage is an alternative method for borrowers who want to qualify for a loan using their assets, regardless of what their taxable income is. Many people live solely off of their assets, which makes it hard to produce a paycheck to a lender in an attempt to secure a traditional mortgage. With this asset-based mortgage, borrowers can use their assets as collateral to get approved for a loan. 
What is an Asset-Based Mortgage?
An asset-based mortgage is a loan that allows a lender to confirm approval based on the assets the borrower possesses. This way, a borrower can use investments to gain approval for a loan, rather than showing payment from an employer. While a downpayment and decent credit score are still necessary, this non-traditional mortgage is a great option for investors who wish to use their assets instead of their cash. It will allow you to borrow the amount you need, as long as you can prove that your assets can cover the term of the loan. 
How Does an Asset-Based Mortgage Differ From a Traditional Mortgage?
An asset-based mortgage is an alternative mortgage that can be used by anyone with assets. Pretty much any assets work, as we will discuss later. Unlike a traditional mortgage, you do not need to show income verification. This is a much more flexible approach to borrowing. As long as you can prove that you can make your mortgage payments and have enough assets as collateral, an asset-based mortgage can be a great loan option for an investor or self-employed borrower. 
Not everyone can easily be approved for a traditional mortgage, especially if most of their money comes from assets and investments. If you have had trouble getting approved for a traditional mortgage due to inconsistent paystubs, employment status, or banking history, take a look at your assets and speak to a lender about how an asset-based mortgage could be the right lending path for you. Interest rates are generally lower than traditional loans as well since lenders know that they can recoup the money using your assets should you default on the loan. 
Businesses are also more likely to consider asset-based financing over traditional financing, as the loan isn't based on the future projected income of the company, but rather collateral that is already owned. Machinery, equipment, inventory, and real estate can all help to secure a company's loan, helping to cover cash flow demands during unexpected delays or circumstances. 
Why Not Buy a House in Cash?
If you have the means to purchase a property in cash, you surely can do so. However, it may not be wise to drop all of your cash on a single property. This ties up your cash for other investments and may keep your options limited. Instead, you could use your assets to get approved for a mortgage. This will help to spread the payments out, keeping money open and easily accessible to you for future investments. 
This alternative mortgage will keep money on hand for you to use as needed, especially if it's not a long-term investment. You will have the cash to renovate, repair, and resell a property. Then pay off the remainder of the loan with the profits. Keep your cash, use your assets. 
Documents Required for an Asset-Based Mortgage
Although an asset-based mortgage is commonly compared to a no-doc mortgage, there are still documents involved. They are just different documents than a conventional or traditional loan – which will require a look at your work history, pay stubs, and tax returns. Here is what an asset-based mortgage lender is interested in:
Cash and cash equivalents: This includes cash on hand and a look into your bank accounts. A healthy amount of cash and cash equivalents reflects your ability to pay any short-term debt and is reassuring to the lender. 
Liquid assets: These are your marketable securities. Your liquid assets can be turned into cash quickly if needed. These assets include any common stock, money market instruments, treasury bills, etc., that you currently own and are considered safe investments by lenders. Liquid assets are as close to cash as you can get, as long as they are in an established market with readily available buyers, with ownership easily transferable.
Fixed assets: Your fixed assets are more permanent assets that would take longer to convert to cash and may come with some complications or consequences to secure. This may include real estate that you already own which you would have to sell (perhaps below value depending on the market) if you were in a tight financial spot, vehicles – which decline in value, and retirement and annuity accounts that will force a penalty on you if you need to access them early. 
Equity assets: These are assets that you can borrow against if needed, but any liabilities need to be first factored in and deducted from the total value. This can mean a business that you have equity in, another home or property, or even a car loan. Any liability, outstanding loan, or debt against these assets will be deducted from the current value to show the amount of equity you hold. 
Fixed-income assets: Some investors may have fixed-income assets which allow for a set cash flow. These may be in the form of corporate or government bonds, mutual funds, etc. The low-interest rates and low market volatility helps to keep the income somewhat constant and reliable. 
Physical assets: Your tangible assets may be your primary residence, a vacation home, any land you own, rental properties, jewelry, art, vehicles, livestock, etc. This is actual property that you own that has economic or investment value. These are real items that can be sold if a borrower cannot repay their loan. 
Illiquid assets: These are assets that cannot be turned around and sold quickly or very easily. This includes things like land and real estate, or even antiques and collectibles. They are assets that take more time to sell, may not have ready and willing buyers, or may take a deep loss in value when sold.
It is worth mentioning that the lender has the final say in what percentage of your assets they will let you borrow. You may be eligible to borrow 85% of what your highly liquid assets are worth, while illiquid assets used as collateral may only get you 50% of their value. This is due to the potential losses in market value and also the costs associated with changing the assets to cash.
Compare Asset-Based Mortgage Lenders
If you've had trouble with traditional mortgages and don't fit the mold for their guidelines and requirements, check out an asset-based mortgage. Benzinga can offer insight and reviews on top providers to help lead the way to your successful alternative mortgage. Check out our top picks for asset-based mortgage lenders.

Avg. Days to Close Loan
30 – 40
1 Minute Review
Luxury Mortgage offers standard products like conventional loans, VA loans, Jumbo loans and FHA loans. It also has more specialized products like bank statement loans, asset qualifier mortgages and no doc investment property loans. If you've had a hard time finding a mortgage due to erratic income, being retired or buying an investment property, Luxury Mortgage is worth a look.
Best For
Self-employed professionals
Retirees
Investors
Condo buyers
Pros
Wide variety of mortgage products
Niche products like bank statement loans
Works with many state home buyer assistance programs
Cons
Only available in 29 states

Get started
securely through New American Funding's
website
Avg. Days to Close Loan
31-40
1 Minute Review
New American Funding offers conventional, proprietary and government-backed mortgages. Its variety of mortgage options make it worth checking out, especially if you have unique financial needs. It also offers options for refinancing and tapping into your home equity. Its products aren't available to New York or Hawaii residents.
Best For
Self-employed individuals
Those with lower credit scores
Those who want access to a variety of mortgage options
Pros
Offers several mortgage options
Website and app to manage your mortgage
Educational resources like calculators, blogs and home buyer guides
Cons
Not available in New York or Hawaii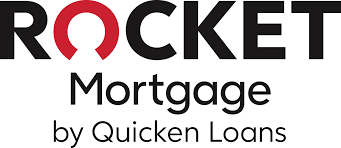 Get started
securely through Rocket Mortgage's
website
Avg. Days to Close Loan
30
1 Minute Review
Rocket Mortgage is one of the best mortgage lenders on the market, making it easy to apply for a home loan entirely online. Its streamlined preapproval process and quick access to customer service set it apart from other online lenders. Rocket Mortgage offers a large variety of mortgages and is backed by the largest mortgage lender, Quicken Loans. Whether you need help or know exactly what you're looking for, Rocket Mortgage matches you with the right mortgage type and helps you quickly complete your online application.
Best For
Homebuyers who are looking to complete the mortgage application process on their own
Homebuyers who have found their dream home and are looking to move through the approval process quickly
Homebuyers with good credit scores looking to review their mortgage options
Current homeowners looking to refinance within the next few months
Pros
Rocket Mortgage allows you to move at your own pace, guiding you through each step of the process. After you answer all the application questions, Rocket Mortgage lets you know if you're approved and show your personalized mortgage recommendations
You can submit checking and savings account information, tax returns and other financial documents online — a feature that sets Rocket Mortgage apart from online competitors
RateShield allows you to lock in your Rocket Mortgage approved rate for up to 90 days
The home loan application process can be completed in minutes, allowing you to find out if you qualify for a mortgage right away
The online software allows you to navigate through the entire home buying process, from approval to home closing. Once you're approved and you make an offer on your home, Rocket Mortgage offers online tools that will help you move through the rest of the closing process
Cons
While Rocket Mortgage has customer specialists ready to answer your questions and provide guidance, if you prefer sitting across from a person when filling out financial forms, this lender might not be right for you
You can't easily view all of Rocket Mortgage's home loan options prior to applying. It offers conventional, FHA, USDA and VA loans, but you'll need to apply to find out more about the mortgage types within these offerings and which ones you're eligible for

get started
securely through North American Savings Bank's
website
Best For
Military Personnel
1 Minute Review
North American Savings Bank (NASB) is a customer-oriented bank offering local service, checking, savings, easy online banking, individual and commercial mortgages and financial literacy education. Since its founding in 1927, NASB has concentrated its attention on taking care of customers by delivering superior customer service with the right financial solution for each individual. NASB does what's right for you. With its financial offerings and commitment to financial education, it empowers you, the customer, to make the right decisions for your money.
Best For
Military personnel
People with less-than-perfect credit
First-time home buyers
Borrowers looking for non-traditional options
Self-employed borrowers
Pros
Multiple account options with competitive loan rates and origination fees
In-house mortgages
Conventional, VA, FHA, jumbo, and IRA residential real estate loans
Cons
Loan process not completely online

Compare Lenders
securely through loanDepot Mortgage's
website
The Bottom Line on Asset-Based Mortgages
Asset-based mortgages can offer flexibility to borrowers in need of a more creative lending solution. Using a combination of assets, borrowers are able to successfully secure a mortgage without having to verify a traditional income. For investors, this can be a great way to obtain a mortgage without liquidating assets or depleting cash reserves. Benzinga always has the best financial information and alternative options to keep your financing and investments successful and uncomplicated. Be sure to check back here for all of your investment needs. 
Frequently Asked Questions
Can I get a mortgage without pay stubs?

1
Can I get a mortgage without pay stubs?
asked
Megan Brown
1
Yes, as long as you have enough assets to put up as collateral. Lenders are open to financing a loan with just proof of cash and assets in an asset-based loan. Having an abundance of assets shows that you are good for the money and can properly pay back a loan. However, if you fail to pay back the loan the lender can seize your assets.  
Answer Link
answered
Benzinga
What is a no income check mortgage?

1
What is a no income check mortgage?
asked
Megan Brown
1
A no income check mortgage also called a no doc mortgage, is similar to an asset-based mortgage in the sense that the lender can take non-standard documentation into consideration for the approval of a loan. They will look at your assets, cash flow, and any home equity you may have. Sometimes with this type of loan, however, you don't even have to provide documents proving that you have assets. This type of loan used to be more common among the self-employed, independent contractors, and seasonal workers that have a hard time verifying any documentation that they have regular income or assets. No income check mortgages have, however, rarely been used after the 2008 housing market crash. 
Answer Link
answered
Benzinga
Rocket Mortgage® is an online mortgage experience developed by Quicken Loans®, America's largest mortgage lender. Rocket Mortgage® makes it easy to get a mortgage — you just tell the company about yourself, your home, your finances and Rocket Mortgage® gives you real interest rates and numbers. You can use Rocket Mortgage® to get approved, ask questions about your mortgage, manage your payments and more.
You can work at your own pace and someone is always there to answer your questions — 24 hours a day, 7 days a week. Want a fast, convenient way to get a mortgage? Give Rocket Mortgage® a try.