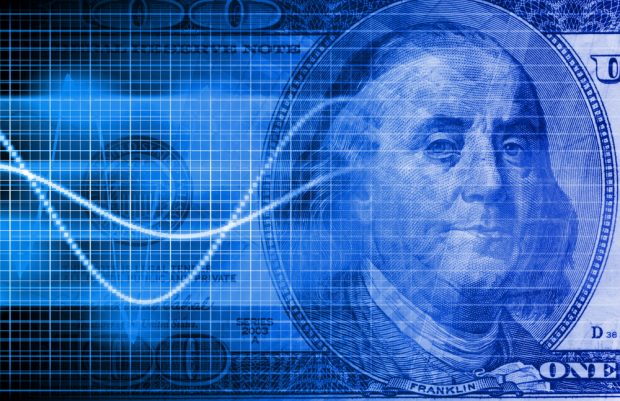 Used cars and first mortgages again posted the biggest gains for credit union portfolios in February. New auto loans were flat from a year ago, while credit cards and home equity grew more slowly than the rest of the portfolio, according to CUNA.
The last "Credit Union Monthly Estimatesshows that first mortgages continue to be the strongest gainer in portfolios despite the national decline in originations. This is partly because refinancing activity can cancel out on the balance sheet, and partly because credit unions are selling fewer first mortgages in the secondary market.
First mortgages rose 11.3% to $587.8 billion from a year ago, and the 0.9% gain from January is a full percentage point higher the average decline of 0.1% before the pandemic for February from 2015 to 2020.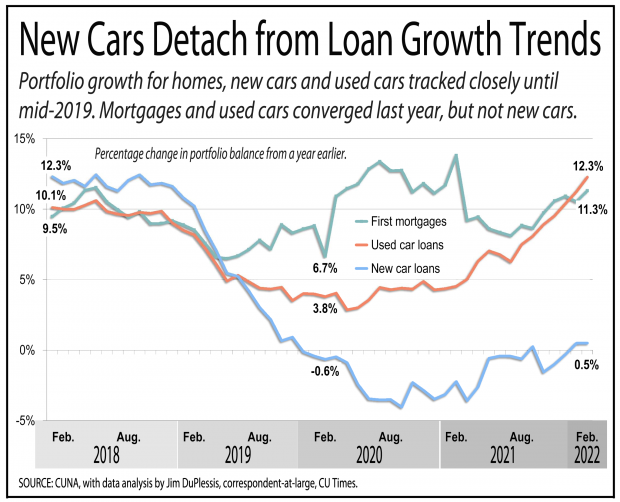 Second mortgages rose 3.4% to $87.7 billion from a year ago, but their components took different paths. Second mortgages fell 8% to $27.5 billion, while home equity lines of credit rose 9.6% to $60.2 billion.
Total loans increased 9.6% to $1.31 trillion from a year earlier and 1.1% from a month earlier. Gains from January to February were generally 0.1% before the pandemic.
Savings amounted to $1.85 billion, up 11.6% from February 2021 and 1.6% from the previous month. Although the gains look strong, the savings fever has died down and the January-February gains were among the highest of the year thanks to tax refunds from the IRS.
In fact, the 1.6% January-February gains for 2021 and 2022 were small compared to the 2.2% average gains for pre-pandemic February months of 2015-2020.
Cox Automotive Chief Economist Jonathan Smoke on Thursday pinned much of the blame for the delay in used-car sales in February and March on the IRS' delay in delivering refunds.
Whatever the IRS effect, credit unions did pretty well with used cars at least in February. They held $272.3 billion in used car loans on Feb. 28, up 12.3% from a year earlier. The gain from January to February was 1.1%, compared to an average gain of 0.4% in pre-pandemic years.
New auto loans still look weak, but they had a good month. The $145.3 billion in new auto loans in the portfolio on Feb. 28 was 0.5% higher than a year ago, and its 0.2% gain from January compares to a typical drop of 0.1%.
Credit cards generally performed well in February as consumers tended to reduce their balances. But they started with sales still behind in February 2020, the month before COVID-19 was declared a pandemic.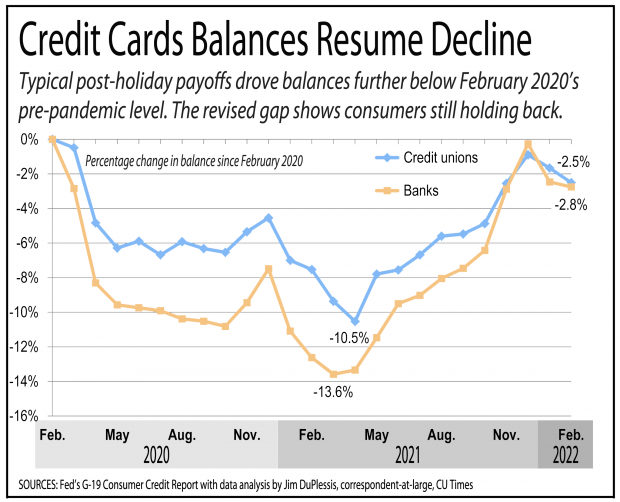 The Fed's G-19 "Consumer Credit Report" released Thursday showed credit unions held $63.6 billion in credit card debt on Feb. 28, up 5.4% compared to the previous year and down 0.9% compared to January.
Credit unions' share of the U.S. credit card market was 6.7% in February, down from 6.3% in January and 6.5% in February 2021.
Banks held $920 billion in credit card debt, up 11.3% from a year earlier and down 0.3% from January. Banks' share was 90.5% in February, unchanged from January and up from 89.6% a year earlier.
Credit card balances fell sharply in the early months of the pandemic, bottoming out in February 2021 before starting a steady recovery.
Earlier data from the Fed's G-19 report showed credit unions nosed above the pre-pandemic February 2020 mark in December, but its report released Thursday contained downward revisions from October to January that showed credit unions had yet to find air.
Fed revisions reduced credit union credit card balances by 1.6%, or just over $1 billion, in December and January, and brought more modest downward revisions to last October and November. The Fed made no changes to banks' credit card balances for December and made negligible downward revisions for the other three months.
The tide of seasonal borrowing will turn this spring as consumers typically take on more credit card debt ahead of the next post-holiday purge.